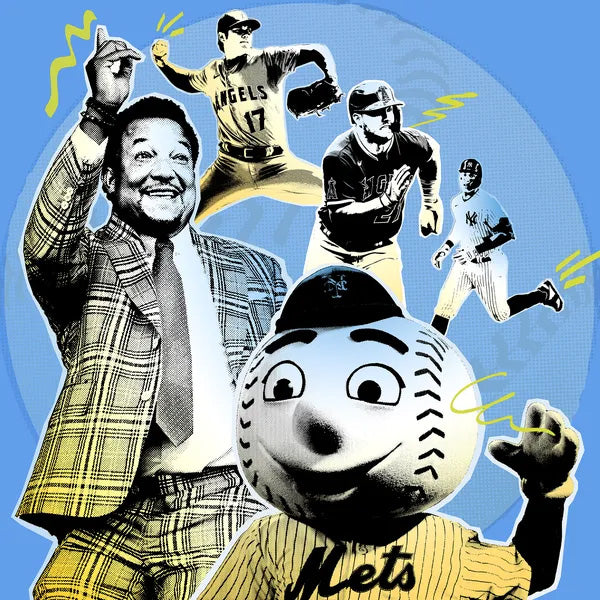 "Baseball Is Just Beautiful": Pedro Martinez on MLB's New Era, and Why the Sport Is More than Math
Fresh off an exhilarating World Baseball Classic, and with Opening Day now here, the sport's most compelling commentator weighs in on the new pitch clock (he loves it), analytics (not so much), the Astros cheating scandal ("People need to move on"), and eternal Hall of Fame debates (let Pete Rose in!).   
Pedro Martinez's broadcasting career has been built on pedigree and personality. As one of the preeminent pitchers of his generation, Martinez, now 51, brings a sense of authority to his jobs as a studio analyst for TBS and MLB Network. And as a regular supplier of killer quotes dating back to his playing days, Martinez also brings the triple crown of charm, charisma, and candor. But put aside the three Cy Youngs and Hall of Fame plaque––or even his immortal quip about beaning Babe Ruth in the ass––and his best quality as a broadcaster comes into focus: Martinez is a fan, and an evangelist for a sport with a shrinking congregation. That was clear last week following the epic conclusion to the World Baseball Classic, when Shohei Ohtani struck out his Los Angeles Angels teammate Mike Trout to lead Japan to victory over the United States. It was an at-bat for the ages, a reminder of how great baseball can be, and Martinez was enraptured. During an interview with Ohtani on MLB Network after the game, Martinez expressed his gratitude to the two-way star.
"I felt like someone needed to tell him how important he was to baseball," Martinez said. "I felt like someone from baseball should have acknowledged what those guys mean to all of us. I'm a fan and I love baseball. I love professionalism. I love discipline. I love watching all that in one player. I wish I could have said the same thing to Mike Trout." It was two days after Japan's triumph when I connected with Martinez over Zoom, and he was still giddy over what he had witnessed. "Was that impressive or what?" Martinez said at the start of the call, beaming through the screen. 
Read More

"I mean, baseball is just beautiful," he said. "If you watch the last two games [of the World Baseball Classic], baseball was just perfect and beautiful harmony. There was a little bit of everything. Excitement in the stands. Who doesn't want to see games like that?"  
There's a simple explanation for his success in broadcasting, one that kept repeating in my head throughout our nearly hour-long conversation: It's just really fun to listen to Pedro Martinez talk baseball. 
Baseball, however, could do with a few more fans like him. Opening Day arrives on Thursday at what feels like a watershed moment, with a slate of new rules designed, at least in part, to reignite interest in a sport that doesn't move the needle like it once did. Hitting and scoring have plummeted in recent years, the games have gotten longer, and now, fewer people tune in. The last three World Series were the three lowest rated since Nielsen began tracking the data more than a half-century ago. Last year's matchup between the Houston Astros and Philadelphia Phillies averaged 11.75 million viewers, a far cry from the 25 million who watched Martinez and the Boston Red Sox end decades of heartache in 2004. Only one World Series since then has averaged more than 20 million viewers, and that was in 2016, when another long-suffering franchise, the Chicago Cubs, finally lifted the trophy. 
In a bid to generate more interest, particularly among young people who have shunned the sport, Major League Baseball has taken steps to hasten the pace of play, most notably with the introduction of a pitch clock this season. Little League International said that youth participation was up last year, but big league stars like Ohtani, Trout, and Aaron Judge don't have the same Gen Z clout as Steph Curry or Patrick Mahomes. And baseball boosters like Martinez are worried that the sport won't resonate with kids who have a bevy of entertainment options at their disposal. "With as many choices as we have here in the United States," Martinez said, "it's going to become more difficult to have a kid interested in seven innings of a boring baseball game."
The game Martinez is now paid to analyze is very different from the one he used to play. MLB, perhaps more than any other professional sport, has been upended by "analytics," the shorthand for the advanced data that teams use to measure and predict player performance. Analytics has proved to be an effective tool in roster construction, helping franchises with small payrolls like the Tampa Bay Rays remain competitive with big market behemoths.  But the explosion of big data has also had a radical effect on the familiar rhythms of a baseball game. Pitchers are kept on tight innings restrictions, turning the complete game into a relic, and teams have increasingly deployed the infield shift––which can result in bizarre defensive configurations like the third baseman playing in shallow center––to neutralize certain hitters, particularly lefties. Restricting the shift by forcing infielders to stay on the infield is another 2023 rule change that could have a significant effect on play on the field. 
"When did we have an analytics department in my playing days?" Martinez said. "We never had an entire analytics department telling us what we needed to be doing. We were playing out there based on what we knew, how we felt based on the repetitions we did in the minor leagues and the big leagues. We were out there to be as good as we could be without having to rely on so much." 
Martinez's seamless transition into broadcasting has invited comparisons to Charles Barkley, the NBA legend who, like Martinez, serves as a commentator under the Turner Sports umbrella. Last year, Barkley signed a 10-year contract with TNT for reportedly more than $100 million, cementing his status as the most successful player turned pundit. 
Martinez, for his part, has downplayed the "baseball Barkley" tag. "I can only be myself," Martinez said. "I'm as direct as Charles Barkley, as anybody. But I just want to be honest, and I want to be me." Martinez and Barkley both have a good sense of humor and personality for days, but they also have their own distinct styles. The most striking difference is in the way they engage the current crop of talent. Even in the studio, Barkley goes hard in the paint, and doesn't hesitate to throw elbows at modern NBA stars like Kevin Durant. Martinez, by contrast, is reluctant to single out a player. "I don't like bad-mouthing anybody. I don't like being critical of players unless they misbehave, unless they do something that they actually shouldn't be doing," Martinez said. "But when it comes to performing and being critical of someone's effort, I can't do that."  That isn't to say that Martinez only supplies tepid takes, or that he won't unload on a fellow member of the players fraternity. He had harsh words for the pitcher Mike Fiers, who in 2019 revealed how the Astros used electronic equipment to steal opposing teams' signs. The scandal had a massive blast radius, resulting in firings and suspensions, and turning the Astros into the most reviled team in baseball. But Martinez didn't exactly consider Fiers a brave whistleblower, calling him a "bad teammate" who breached a clubhouse code. And now that the Astros won another title last year, their second since 2017, Martinez believes the controversy should be vanquished. "I think people need to move on," Martinez said. "Ever since they did what they did, I think they have been under surveillance." Martinez also isn't afraid to offer an unconventional take. Before the dramatic showdown between Ohtani and Trout, the World Baseball Classic had drawn scrutiny over injuries suffered by high-profile players, such as Edwin Diazand José Altuve, during the competition. Diaz, the lights-out closer for the New York Mets, tore the patellar tendon in his right knee during Puerto Rico's celebration after its win over the Dominican Republic. He will miss the season for what most chalked up as a fluke injury, but Martinez believes it is a cautionary tale of overexuberance. "That was a lesson to all of us," said Martinez, who himself pitched for the Mets from 2005-2008. "For the next World Baseball Classic, everybody that's going to celebrate is going to think of Edwin Diaz."
"We all learned that we need to keep our discipline when we celebrate. We all learned that we need to be careful," Martinez added. "Even though you won and have so much joy, you still have to be careful. Nobody got hurt on Japan's team celebrating. Nobody got hurt on the United States' team celebrating." 
The wiry Martinez played during baseball's other great cheating scandal. Built more like Olive Oyl, he dominated in a time of Popeye-sized sluggers like Mark McGwire, Barry Bonds, and Sammy Sosa, all of whom have been left out of the Hall of Fame because of an association with performance-enhancing drugs.
Martinez has a characteristically defiant take on his reign over the steroid era. "I would've loved to see the clean baseball that we're supposed to be playing right now without the steroids in my era, but I must say that's just the way I wanted it," he said. "I wanted to be the best I could possibly be and beat everybody that was out there. Whether he was using steroids or not, I didn't care. That was the kind of challenge I wanted."
The famed pitcher also points his finger at the league, which did not adopt a steroid-testing policy until 2003. "I honestly must say, it wasn't illegal when that happened," Martinez said. "Baseball really dropped the ball on that." 
Martinez, who was enshrined in Cooperstown in 2015 after being elected on the first ballot, said that Bonds and former pitcher Roger Clemens "were both Hall of Farmers before they went into that." (Bonds admitted to unknowingly using two forms of PEDs; Clemens has denied ever using them.) He was more emphatic in his endorsement of another all-time great who has also been left out of the hall. "Enough of the punishment to Pete Rose," Martinez said, referring to MLB's career hits leader who was banned from baseball for betting on games for the team that he managed. "I will tell that to the commissioner. I will tell that to anybody." 
Hall of Fame debates have been a rare constant in a century of upheaval in baseball. This season brings some of the most dramatic changes to the game yet, none bigger than the addition of a timer, which ends baseball's run as a proud bastion of nonclocked sport. Pitchers will now be given 15 seconds to throw when the bases are empty, or 20 seconds when a runner is on base. The new rule also requires hitters to be in the batter's box with eight seconds on the clock.
Martinez, who was never afraid to plunk a dawdling batter, only wishes it had been introduced earlier. "I would have loved a pitch clock when I was pitching," he said. "I would have loved not having to drill someone for stepping out [of the batter's box]. I would love to have the game be quicker."
Martinez had plenty of good days throughout his 18-season career in the big leagues, but the truly immaculate days, when he seemed so unhittable that he could strike out God––those days, he estimated, came only three or four times a year.   On those days, Martinez told me, "the ball feels like it's smaller." 
"Once you step on top of the mound," he said, "home plate looks close to you."  
Martinez still has days like that; they're just more likely to occur on a boat than at the ballpark. "Just the other day, I went fishing and I didn't even have to go too far," he said. "Not even two miles from shore, and there it was. I got eight wahoos. In less than an hour, I did all my fishing for one day." 
  For Pedro Martinez, the magic of a day can be measured in the distance to home plate, or to prized game fish. 
Martinez revels in his retirement from baseball. He spends most of his time in Miami, where he docks the boat he uses to catch mahi-mahi, tuna, and snappers. But Martinez also remains rooted in his native Dominican Republic, where he and his mother raise more than 1,000 chickens. "I just love feeding them and how they chase me around when I have food in the basket," he said. "I love seeing animals around. I love nature." 
But what Martinez still loves more than just about anything is baseball, which is why he has thrived in his broadcasting gigs. "The main reason why I do these things is because it keeps me in the game," said Martinez, who reportedly earneda "substantial raise" when he renewed his deal with TBS and MLB Network in 2018.
"If I wasn't a baseball player, I wanted to be a doctor because medicine never stops teaching you, and there's always new diseases and new things that you need to learn about the body. It's the same thing with baseball. With baseball, you never know what you're going to see, and the more I watch baseball, the more I learn. That's why I learned to love what I'm doing now." 
That sense of curiosity has helped Martinez mostly avoid the crankiness that typifies many former players. He is receptive to baseball's other rule changes, including the restrictions on the infield shift, and he knows that the sport he loves must continue to evolve.
But when it comes to the proliferation of data in sports, Martinez is as old school as Barkley, who has scorned basketball's own analytics community for years. "Baseball has changed," Martinez said. "I'm glad the players are getting the salaries they've earned. They're getting a lot of money. But the sense of responsibility and accountability that was out there for the individuals playing has shifted a little bit. There's a lot of different brains now working with you."
Martinez, naturally, is most irritated about what the trend has meant for starting pitching. In his Cy Young-winning campaign for the Montreal Expos in 1997, Martinez led the majors with 13 complete games. Last season, only one pitcher in baseball had more than five complete games.
The innings restrictions are designed to preserve a pitcher's health, but it has frustrated fans as much as it has Martinez. On Opening Day last year, the Los Angeles Dodgers yanked star Clayton Kershaw after seven innings despite the fact that he was throwing a perfect game.
As Martinez sees it, analytics can't account for the ineffable side of sport, or the special days that only come a handful of times each season. "Sometimes you're watching Pedro Martinez on top of the bump, and you paid for this expensive seat to watch Pedro Martinez pitch, and the guys in the analytics department say, 'Oh, Pedro against this team? Get him out in the fifth inning,'" Martinez said. 
"But guess what? That day, I'm seeing the plate really close to me."